Tesker Model 380E 2-Die
An Extremely Solid, Low Maintenance Thread Roller
Featuring direct drive of bevel type gearboxes, linear guideways and has a powerful, efficient screw drive rolling force.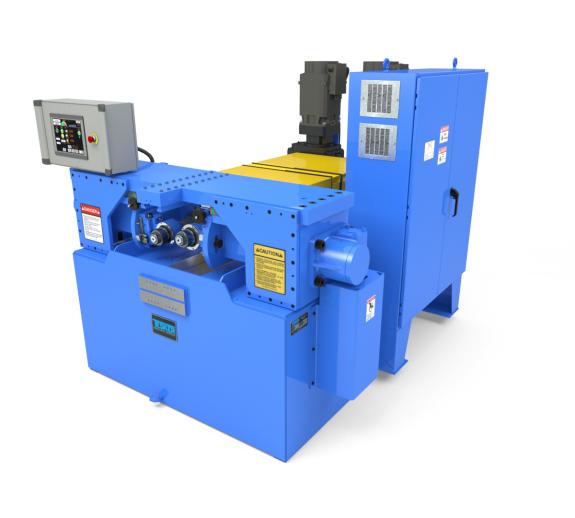 Type
Infeed & Thrufeed
Capacity
4"
Rolling Pressure
100,000 lbs
Motors
Spindle Drive
40 HP
Coolant
1/4 HP, Capacity 75 Gal
Dies
Maximum Diameter
8"
Maximum Face Width
5.5"
Spindle Size
(other sizes available)
Spindle Speeds
Variable
Spindle RPM
1 - 130 (other speeds available)
Floor Dimensions
Width
94"
Length
92"
Height
77"
Weight
12,500 lbs
All models wired to NFPA 79 standards for operation on 240 or 480 volt, 3 phase, 60hz. Other voltages available at additional cost.
Specifications subject to change without notice.
Please be advised that fixturing and additional guards may be needed, depending on job being rolled. Tesker Manufacturing Corporation assumes no liability for fixturing or guards designed, manufactured or installed by anyone other than Tesker Manufacturing Corporation.